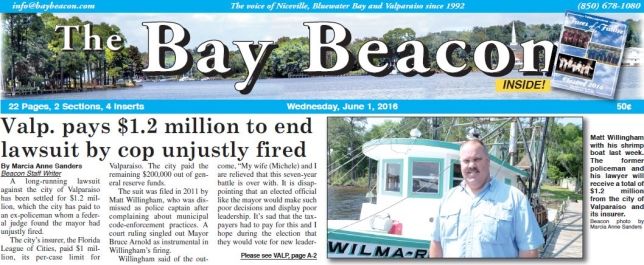 Attorney Mike Chesser helped his client, an ex-policeman, reach a $1.2 million settlement after being unjustly fired by the mayor of Valparaiso. According to an article in The Bay Beacon, the suit was originally filed in 2011 by Attorney Chesser's client, who was dismissed as police captain after voicing complaints regarding municipal code-enforcement practices. A majority of the settlement was paid by the Florida League of Cities, while the city of Valparaiso paid the remaining $200,000 out of general reserve funds.
In 2009, the client was fired after his seafood restaurant business was found to be in violation of building violations. As second-in-command at the police department, one of the client's duties was city code enforcement. Before his termination, the client publicly disagreed with city officials about how code violations are handled. His dismissal was ruled as a violation of his free-speech rights.
Attorney Chesser stated that had the city not agreed to the settlement, the next step would have included a high court appeal to the U.S. Supreme Court – such an appeal would have cost the city upwards of $300,000. Attorney Chesser went on to say that although money could never make up for the opportunities his client missed out on after his termination, his professional absence will be felt strongly in the community.
"Because of his talent, he will make his life outside of law enforcement," Attorney Chesser said. "But that is a loss to law enforcement and for the city of Valparaiso in my opinion."
Treating Clients With the Respect They Deserve
The Okaloosa County lawyers at Chesser & Barr, P.A. have the skill and experience to handle a wide range of civil litigation matters. Because quality service is a top priority at our firm, we treat clients with the same level of care and respect one would expect to receive from a close friend or relative. Those who come to our firm can trust that we will work tirelessly to ensure that their worries and concerns are addressed.
Facing a civil litigation matter and are in need of qualified and experienced legal representation? Contact our firm today by calling (850) 610-7471 or contact us online to request a consultation.